---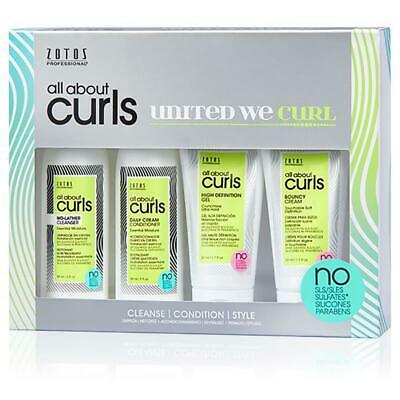 Zotos Professional All About The Curls Starter Kit
Cleanse - Condition - Style
Ready to unleash your curl power? Created for naturally curly hair regardless of texture or tone, to deliver nourished, defined and de-frizzed curls. Join the celebration and embrace extraordinary strands with professional hair care designed to unite all in their quest for ideal curls. NO-LATHER CLEANSER: Discover the lather-free life! This foamless formula gently cleanses while adding a healthy helping of hydration for strong, soft, de-frizzed curls that look ultra-luscious – no suds necessary. DAILY CREAM CONDITIONER: Comb-through is a breeze with this conditioner, which delivers the moisture your curls crave and leaves your strands silky-soft and easy to detangle and style. HIGH DEFINITION GEL: All the control without the crunch! This styling gel delivers strong hold while locking in moisture and boosting shine. Leaves curls firmly defined without all the frizz. BOUNCY CREAM: Let's bounce! This rich moisturizing styling cream defines and de-frizzes, for curls that are irresistibly soft to the touch and ready to spring into action.

#UnitedWeCurl

Product Features:
Discover your best curl with All About Curls essentials to get you started

Created for naturally curly hair regardless of texture or tone

NO SLS/SLES Sulfates, Silicones or Parabens.

SLS/SLES Sulfates= Sodium Lauryl Sulfate/Sodium Laureth Sulfate.