---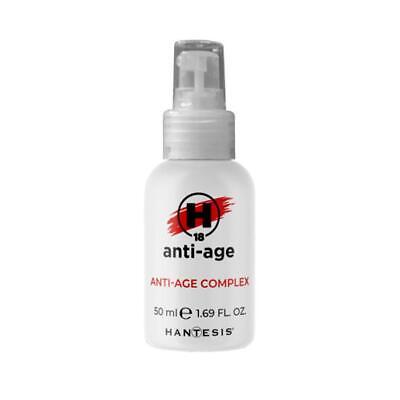 Hantesis H18 Anti-Age Complex 50 mL
Regenerating Treatment for Damaged, Colored, Bleached Hair

Soft and light emulsion, flowing and easy to apply; performs an anti-aging and regenerating action, giving the hair silkiness, body and brightness. It's biomimetic technology makes it a new-concept product in the treatment of damaged hair: in fact, it contains a synergistic mix of protein derivatives and peptides, active components that act by reproducing the natural process of formation and connection of keratin chains damaged by technical treatments and/ or environmental factors. After it's application, the hair immediately appears regenerated and flowing.

Contains: Acetyl Hexapeptide-1, biomimetic peptide with anti-aging and filler effect, with cementing and filling action on damaged keratin chains; vegetable keratin nad ceramides that work in synergy with the peptide completing it's regenerating action, bringing nourishment, body and shine to the hair; macadamia oil, with emollient and nourishing action.
Directions: After shampooing, apply a small amount to damp, towel-dried hair, distributing the product evenly over each strand from the ends towards the root and vice versa; leave on for 4-5 minutes to facilitate absorption, do not rinse; proceed with drying with the desired technique (diffuser, helmet, hair dryer, straightener).