---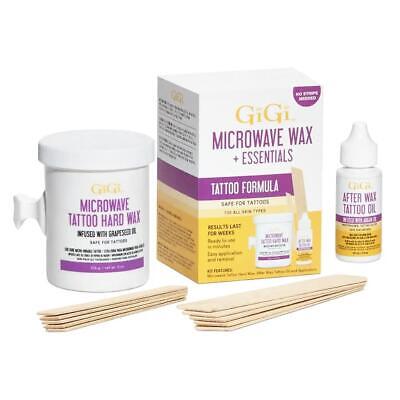 GiGi Microwave Tattoo Hard Wax + Essentials Kit
Item Number: 92034

The GiGi Microwave Wax + Essentials Tattoo Formula offers all the tools needed to safely remove hair from tattooed skin including a specially formulated Microwave Tattoo Hard Wax and an After Wax Tattoo Oil to moisturize the skin and revitalize tattoo color.
The Microwave Tattoo Hard Wax is a gentle, strip-free formula that can be heated in the microwave and ready to use in minutes with results that last for weeks. The wax is infused with grapeseed oil, argan oil and moringa oil to be gentle on tattoos and sensitive skin.
The After Wax Tattoo Oil revitalizes color and adds depth to your tattoos and soothes and moisturizes the skin after hair removal. This blend of oils is infused with argan oil, macadamia oil and moringa oil to make your skin look it's very best.