---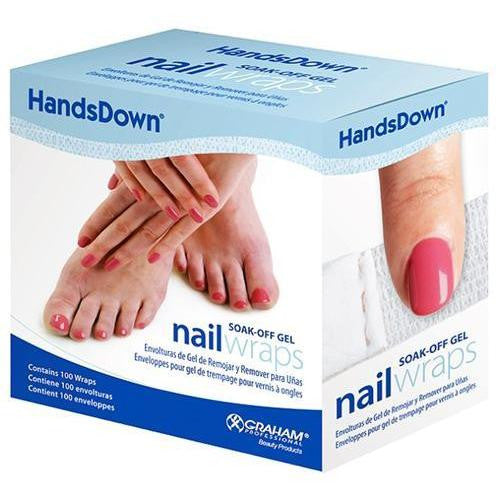 Hands Down Soak-off Gel Nail Wraps 100 Count
HandsDown Soak-off Gel Nail Wraps are perfect for removing soak-off gel polish and acrylic. The flexible design is perfect for finger and toe nails. Cosmetologist-driven innovation for clean, easy soak-off gel removal.
Product Features:
Removes soak-off gel polish and acrylics
Flexible design and easy to apply
Unique material
With the popularity of UV gel polish styles, Graham Beauty saw the need to provide nail technicians and cosmetologists with a superior product designed for easy, comfortable soak-off removal of gel polish and acrylic.
Some polish removal products require an awkward fold to seal and can slide around the nail. HandsDown Soak-off Gel Nail Wraps are easy to apply with a simple wrapping technique and easy-press seal. This cosmetologist-driven innovation resulted in a new nail wrap that features a flexible design for use on both fingernails and toenails. The unique, elastic material provides a secure seal, creating a non-slip wrap.
HandsDown Soak-off Gel Nail Wraps are also cleaner and don't waste acetone because the wraps don't require a full acetone soak of the hand. This translates to savings in the salon and increased customer comfort. Compared to other products on the market today, these nail wraps are the easiest, most comfortable way to remove soak-off gel polish. With just three easy-to-follow steps, users can obtain clean, polish-free nails in approximately 10 minutes.